5 minutes with... Jon Fielding, Managing Director, Apricorn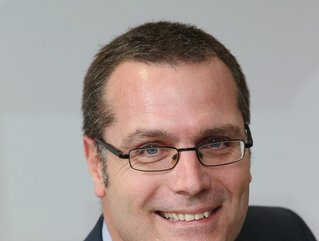 Apricorn's Managing Director, Jon Fielding, explores how encryption technology is being implemented within enterprises today.
Can you tell me about Apricorn?
Since the company was founded in 1983, Apricorn has emerged as a go-to provider of secure storage innovations for some of the most prominent companies in the world, especially across key sectors such as finance, healthcare, education, and government. Organisations operating within these verticals are subject to strict regulations when it comes to data security practices. Today, we serve customers globally, drawing on our experience and legacy which has seen Apricorn develop numerous award-winning products and patents, both under our own brand and for multiple leading computer manufacturers on an OEM basis. In particular, the company is known for being the leading manufacturer of software-free, PIN pad authenticated 256-bit AES XTS hardware-encrypted USB drives which set the standard for data security around the world. We are headquartered in Poway, California, which is around 120 miles south of Los Angeles and 20 miles north of the Mexican border, with our President Paul Brown having founded the company shortly after graduating in Computer Science from San Diego State University.
What is your role and responsibility at the company?
As Apricorn's Managing Director, I have overall responsibility for sales, support and marketing activity across the Europe, Middle East, Africa and India territory. Our route to market is 100% via the channel, so I also own all channel and indirect touch strategies we deploy in these regions.
I have been with the company since March 2016, when I was initially tasked with bringing Apricorn security products to EMEA, establishing our regional office and building out the channel team and infrastructure to emulate the success of the company in its home markets. Previous experience in helping organisations to gain a foothold in the EMEA territory helped here. Prior to joining Apricorn, I spent more than seven years at flash drive developer Ironkey where, in 2008, I was recruited as the first employee in the region to establish the brand, drive growth and build partnership networks. That experience has proven invaluable during my time at Apricorn.
How is encryption technology being implemented within enterprises today?
Encryption is a vital data security tool in the defensive arsenal, providing an additional security measure that can help to protect data should it be misplaced, stolen or compromised. Encouragingly, it appears as though more organisations are starting to treat encryption as a serious part of their cybersecurity strategy. According to research we released recently, the number of UK entities implementing data encryption as a core part of their cybersecurity strategy has continued to rise. Of those IT decision makers we surveyed, 32% said they had introduced a policy to encrypt all corporate information as standard in the last year. In total, nearly half of all organisations are now requiring the encryption of all data, while just 2% do not see encryption as a current priority. One of the most common ways companies are making use of encryption is to protect data held on removable media such as hard drives, USBs and smartphones. Built-in hardware encryption with onboard authentication is proving popular because it affords stronger protection than software- based encryption, which can leave devices exposed to counter resets, software hacking, screen capture and keylogging. Critically, encryption offers a workable alternative to simply banning removeable devices.
What do you think are some of the greatest security challenges associated with remote working, and how have these changed?
In moving to hybrid working models at the drop of a hat in 2020, organisations were placed under extreme pressure to develop new cybersecurity strategies. According to our IT leaders survey, three major challenges persist. The first, cited by 42%, centres around the complexity of managing all of the technology that employees need and use. Laptops, smartphones, desktop PCs, tablets, communication platforms, email, VPNs… these are just some of the technologies and equipment that today's remote worker may need to carry out their jobs effectively from home or elsewhere outside of the office. The second biggest challenge, cited by 38% of IT leaders, is preparing for and responding to the likelihood that employees will unintentionally expose the organisation to a data breach, with human error, unfortunately, playing a key role in around 19 of every 20 cyber breaches. And thirdly, around one in three respondents said that uncertainty around whether data is adequately secured is a major issue. Data encryption provides organisations with a way to mitigate these acute challenges. The flexibility and agility we have gained through the normalisation of hybrid and remote models need not result in a compromised security set up.
How are organisations approaching data backups in 2022?
If I had to describe the overall picture when it comes to the backing up of data, it is certainly a mixed one with many different approaches and priorities. In April 2022, we released our annual survey looking into data backup strategies. While almost all (99%) of IT decision makers said they had a backup strategy in place, more than one in four admitted they were unable to fully restore all data when recovering from a backup. However, it appears as though companies are starting to buy into the need for a solid backup strategy to protect their data, enabling them to prepare for, respond to and recover from disruption. In fact, almost three in 10 respondents to our survey acknowledged having automated backup to both a central and personal repository. Despite this positive sign, most (around six in 10) who have backups in place said they did so via an automated backup to a central repository only. This could be problematic – if the sole backup location is hit by a cyber-attack or technical disruption, mass business disruption could follow. We have long been advocating for organisations to embrace the '3-2-1 rule' – have three copies of data, on two different media, one of which is offsite.
What can we expect from Apricorn in 2022?
Apricorn will continue to lead innovation and be first to market with critical features – this is what the company has been doing since minute one. In the future, you can expect to see faster devices with more capacity and enhanced features that I am unfortunately not yet in a position to share. We tend to find our competitors mirror our every move, so timing of any announcement has to be carefully managed. I'm also pleased to say that Apricorn will celebrate its 40th birthday next year. From the start, the company has built a reputation as forward thinking. I like to think we are just as innovative and responsive to the cyber threat landscape now, despite it being infinitely more complex, as we were back in the 1980s as a post-graduate Californian startup.