Fears of cyber attacks overshadowed by new global volatility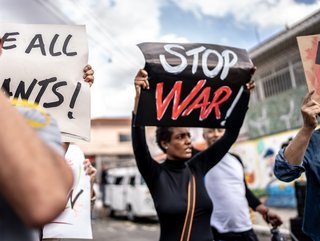 Survey reveals inflation, macroeconomic volatility and geopolitical conflict rank as the top global threats, as cyber and health risks fall from a year ago
CEO fears of cyber attacks have subsided in the past year - but only because these have been eclipsed by major new concerns, including inflation and macroeconomic volatility, new research reveals.
The bleak outlook detailed in PwC's 26th Annual Global CEO Survey - which polled 4,410 CEOs in 105 countries - is the most pessimistic the survey has ever recorded, says PwC, and a significant departure from the optimistic outlooks of 2021 and 2022, when more than three-quarters (76 per cent and 77 per cent, respectively) thought economic growth would improve. This year, nearly three quarters (73 per cent) of CEOs believe global economic growth will decline over the next 12 months.
While cyber and health risks were the top concerns a year ago, the impact of the economic downturn is top-of-mind for CEOs this year, with inflation (40 per cent) and macroeconomic volatility (31 per cent) leading the risks weighing on CEOs in the short-term – the next 12 months – and over the next five years. Close behind, 25 per cent of CEOs also feel financially exposed to geopolitical conflict risks, whereas cyber risks (20 per cent) and climate change (14 per cent) have fallen in relative terms.
The war in Ukraine and growing concern about geopolitical flashpoints in other parts of the world have caused CEOs to rethink aspects of their business models, with almost half of the respondents exposed to geopolitical conflict integrating a wider range of disruptions into scenario planning and corporate operating models either by increasing investments in cybersecurity or data privacy (48 per cent), adjusting supply chains (46 per cent), re-evaluating market presence or expanding into new markets (46 per cent), or diversifying their product/service offering (41 per cent).
Multiple direct challenges to profitability
Nearly 40 per cent of CEOs think their organisations will not be economically viable in a decade if they continue on their current path, is the stark message from PwC. The pattern is consistent across a range of sectors, including telecommunications (46 per cent), manufacturing (43 per cent), healthcare (42 per cent) and technology (41 per cent). CEO confidence in their own company's growth prospects also declined dramatically since last year (-26 per cent), the biggest drop since the 2008-2009 financial crisis when a 58 per cent decline was recorded.
CEOs are also seeing multiple direct challenges to profitability within their own industries over the next 10 years. More than half (56 per cent) believe changing customer demand/preferences will impact profitability, followed by changes in regulation (53 per cent), labour/skills shortages (52 per cent), and technology disruptions (49 per cent).
"A volatile economy, decades-high inflation, and geopolitical conflict have contributed to a level of CEO pessimism not seen in over a decade," says Bob Moritz, Global Chairman, PwC. "CEOs globally are consequently re-evaluating their operating models and cutting costs, yet despite these pressures, they are continuing to put their people front and centre as they look to retain talent in the wake of the Great Resignation.
"If organisations are not only to thrive – but survive the next few years – they must carefully balance the dual imperative of mitigating short-term risks and operational demands with long-term outcomes – as businesses that don't transform, won't be viable," he says.
Regarding technology, nearly three-quarters (76 per cent) of organisations say they are investing in automating processes and systems, implementing systems to upskill workforces in priority areas (72 per cent), deploying technology such as the cloud, AI and other advanced technology (69 per cent).
Torn between the demands of short-termism and long-term transformation, CEOs say they are primarily consumed with driving current operating performance (53 per cent), rather than evolving the business and its strategy to meet future demands (47 per cent). If they could redesign their schedules, CEOs say they would spend more time on the latter (57 per cent).