Implementing artificial intelligence into a HR strategy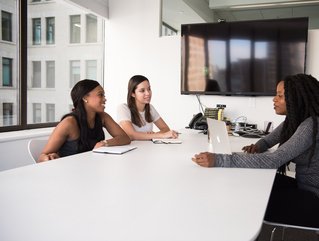 Sam Isaacson, Global Director of Consulting at CoachHub, talks to Cyber Magazine about the value of AI within the HR context.
According to the ISC's 2021 Cyber Workforce Report, the global cybersecurity workforce currently needs to grow by 65% to effectively defend the world's businesses from rapidly increasing cyber risks. The cybersecurity industry is therefore far from exempt from the global skills shortage which continues to dominate the HR landscape.
Artificial Intelligence (AI) is a tool that is becoming increasingly popular in supporting businesses to resolve such challenges. No longer are AI and machine learning (ML) only reserved for the most technologically savvy departments, but rather widely-used technologies across the enterprise. When introducing AI into a wider range of business functions, organisations can reduce the amount of resources used for basic administrative responsibilities and focus their energies on more innovative development opportunities.
Despite growing AI usage, misunderstandings around its potential remain common in departments which are traditionally less technologically-driven, such as HR. Although misconceptions might be common, in reality, AI is largely designed to automate certain manual processes, with the goal of reducing administrative burden and thus increasing efficiency. As such, there is a significant case to be made for introducing AI into a business's HR strategy, especially for cybersecurity organisations, because as more businesses adopt new and emerging technologies, security threats change.
Driving rational decisions made by machines
When AI was beginning to mature in the late 20th century, experts described the technology in terms of machines that mimicked and displayed "human" skills, such as learning and problem-solving. They assumed that machines would be progressively humanised, learning to carry out tasks in the same way that a human would. This is certainly an aspect of AI, but doesn't quite tell the full story. In fact, this understanding of AI is closer to how ML is defined today. ML is an application of AI that leverages data and algorithms to imitate how humans learn, with its accuracy progressively improving over time. ML is generally used for things like online chatbots and customer recommendation engines, which facilitate machines progressively "learning" how to give more human suggestions to users.
Leading researcher Stuart Russell makes the case that AI is not centred around humanising machines, but rather involves programming machines to act rationally. Machines aren't becoming more human, but are being programmed in a way that leads to rational functions being carried out. The difference is significant.
In the vast majority of organisations today AI is about teaching machines to carry out processes that can be a drain on resources if carried out by humans. For example, a developer could program a computer to select a business coach for an employee based upon the data that it gathers about the individual's job role, responsibilities, and personal needs, among other factors. There is no real benefit derived from a human executing this action instead of a computer, as the two would likely come to an equivalent conclusion - that's what we're seeing at CoachHub. And this really matters in coaching, where the working alliance between coach and coachee is one of the biggest indicators of coaching success. Much of what AI does, especially in the HR space, is a process of automation which saves time and costs, as well as increasing the scale at which an action can be undertaken.
A range of benefits to deliver success
There are a huge variety of additional benefits to integrating AI into existing business functions that go beyond efficiency gains. Whether it's employee time, money spent on licences for manual software, or hours sunk into training, all of these things can be reinvested into the business. This is especially important in the HR department, where even the smallest resource recovery can be invested directly into improving the employee experience in some way, which is crucial in today's tight candidate market. It's also worth considering the quality gains when using AI to automate processes. As long as algorithms are trained correctly, AI does not make mistakes in the same way that a human naturally would from time to time. This not only contributes to the overall efficiency gains that derive from implementing AI, but can also help a business to realise the technology's broader applications.
Over time, AI could learn about which types of people development materials, such as videos or interactive games, are most engaging for different employee profiles. The data gathered would then be used to recommend materials to employees with a similar profile, with the aim of driving greater engagement with people development materials. Taking this one step further, the AI could use this employee engagement data to carry out predictive analytics, suggesting which kinds of materials could be most useful for the organisation's HR team to create in future. HR leaders can then get ahead of the curve, ensuring that they are always providing their employees with highly relevant learning experiences, particularly in cybersecurity, an industry that is constantly evolving over time and responding to changing needs.

Revolutionising HR processes at the touch of a button
Integrating AI into time-consuming, admin-driven processes is an important step for organisations looking to increase efficiency and use resources more effectively. Within the HR department, AI tends to drive a lot of routine processes, allowing resources to be allocated to innovative new programmes, such as digital coaching, which may not have been accessible before.
Such a reallocation of resources also brings benefits for workers, who can increasingly self-serve HR functions quickly and seamlessly, focusing their efforts on the job they were employed to do. The prevalence of AI is certainly not something to be feared within the HR arena, but an opportunity that is sure to bring more and more benefits in years to come.