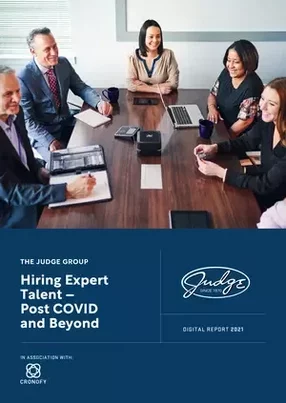 Hiring Expert Talent – Post COVID and Beyond
Using the latest technology, the so-called "war for talent," is taking on a whole new meaning post-Covid
The past 18 months have not only transformed the way companies operate and do business, but it has shifted the way companies hire top tier talent.
These days, onboarding is likely to be virtual, and hiring an expert in their field can happen regardless of borders and oceans between employee and employer.
It's a changing world, says Chris Flatley, Director of Technology Solutions for The Judge Group - a North American based consulting, learning, staffing, and search company. The digital workplace has shifted so quickly over the last 12 months that any company not willing to invest in technologies to help their team grow and develop will undoubtedly be left behind.  
Before Flatley joined The Judge Group, which uses next-generation solutions to determine the best outcomes for its clients, he was firmly embedded in the technology industry.  
With a 15-year career in IT, his work is now based on using the latest innovations in virtual systems to provide business solutions across all verticals, including financial services, healthcare, life sciences, technology, and others. Flatley is proud of the group's achievements and describes his role in the current climate as "incredibly exciting times in the technology industry, with the opportunity to grow new and existing relationships, drive impactful engagements and scale software development teams across the US."
"We provide business solutions across all verticals and hold ourselves to the highest standards and operate with integrity, professionalism, and trust, by hiring some of the most ethical and knowledgeable people in the industry," he says.
Pandemic and virtual onboarding
Competition for expertise has transformed almost as much as hiring methods over the pandemic period, explains Flatley who says technology is now an integral part of the HR and Recruitment industry.
"I've learned that technology is transforming the way businesses and people interact. And my experiences over the last 15 years have led me to this place where post-COVID, the war for talent is at an all-time high."
"It's exciting to be a part of the shifting business environments, and the ever-changing technologies that drive enterprise solutions, as we move forward in the post-COVID era of business"
But it's the so-called war on talent that has seen one of the biggest changes, points out Flatley, who says the sector has taken on a whole new meaning. Talent management has undergone a massive overhaul, accelerated by the COVID-19 pandemic. Working environments, business priorities, and new technologies have been adopted with massive urgency.
Virtual recruiting and onboarding is now the new normal – and my team and I have helped companies realise their potential when it comes to hiring new talent.
"It's here to stay," he says with confidence. Instead of being a stop-gap that has propelled companies through a difficult period, Flatley believes such processes have opened up a whole new set of possibilities.
"Virtual recruiting in 2020 helped organisations streamline recruiting processes, improve diversity hiring, and hire a more diverse set of talent by reaching across geographic barriers," Flatley explains. Three major changes that he's seen since COVID are:
"First, the use of video platforms have helped organisations connect with prospects remotely, record interviews for feedback, and allow other team members to watch and assess skills and personality traits. The use of video platforms has changed the way companies hire talent.  
"Secondly, companies are recruiting with flexibility. In a recent study, 85% of businesses said that productivity actually increased their workplace due to more flexibility. Offering that flexibility as a job perk, like allowing employees to work in a hybrid work environment, can help you gain an advantage versus businesses offering positions that do not include that same level of flexibility."
"The third aspect would be hiring outside of your target market for transferable skills. Employers will need to look for innate skills that they believe will help prospective employees easily adapt to the responsibilities of the job, otherwise known as, transferable skills, says Flatley"
Diverse hiring through technology
But these processes are not the only things to have evolved since 2020 dealt the world of business what seemed at the time like a near-fatal blow. The whole culture of hiring has shifted, with thought leaders now re-evaluating the traits they thought would be essential before COVID-19.
Flatley refers to the transferable skills part of recruitment, explaining, "These skills can include things like dependability, problem solving, adaptability, and leadership. And the last would be challenging the bias. I often hear leaders say it's harder to assess candidates for culture fit over Zoom or WebEx than it is in person.
"However, I'd urge managers to ditch that idea of a culture fit altogether. Fit implies sameness. It suggests you're looking for someone who acts and thinks like you."
Flatley says the Judge Group takes a different stance, and that is part of the reason why it's so successful at matching expertise with the right positions. "We look for people who are culture  adds, candidates who can make organisations  better by bringing new perspectives to the table.
"When you reframe it that way, interviewing becomes more about potential than personality. And in a video interview setting that is now virtual, small talk and rapport building are less organic, and that shift is critical."
Diversity in recruitment
Making sure a company is also adhering to diversity standards is another aspect of the job. This requires a greater level of commitment and complexity for the recruitment sector.
Referencing a study by McKinsey and Co., Flatley points out that companies with greater racial and gender diversity were 35% more likely to have financial returns higher than their respective industry mediums on a national basis.
He says, "Every single organisation we work with has made a significant investment to increase their DE&I within their organisation. And this year, 70% of job seekers said they wanted to work for a company that demonstrates a commitment to diversity and inclusion. So, it's becoming a massive shift in the current workforce and landscape of hiring and talent acquisition."
From the 'people perspective' side of the business, the agenda has also shifted, with teams working towards a culture of shared values. Flatley says this is happening on a global scale as agility and resilience become prized commodities.
"High-performing teams start with a culture of shared values," he says. "Hiring and onboarding have become essentially a remote activity. Since March of 2020, the world economic forum called for a global re-skilling revolution, and firms are now requiring different skills of their workforce, including resiliency, adaptability, digital, and interpersonal skills that were not as relevant as they are today.
"The reward for such efforts would be a more resilient, more talented, and better-paid workforce, and a more robust and equitable society."
Harnessing technology in the recruitment space
So, with digital transformation being key to the future success of all enterprises, how has The Judge Group managed to stay ahead of the curve?
The Judge Group continues to move the needle in replacing manual processes with digital processes, explains Flatley, by replacing older technology with newer technology. He says the digital workplace has shifted so quickly over the last 12 months that any company not willing to invest in new technologies to help their team grow and develop will undoubtedly be left behind.
Managing a hybrid workforce has also become the new normal, and is a permanent fixture, he says.
"It's here to stay whether we want it to or not. What COVID-19 has taught us is that the workforce can be trusted. People can continue to build and create amazing products, drive results, and accomplish goals without being in the office.
"I believe going forward, we'll see a massive shift in our workforce. Companies  will allow employees to work in a hybrid work environment. A recent study said that 30% of employees  would not return to their previous employer if they didn't allow a remote hybrid work environment."
He continues, "The Judge Group has done a phenomenal job adopting new technologies to enable our workforce to be successful. We recently partnered with a company called Cronofy, which allows us to book meetings without trading a bunch of emails back and forth."
Strategic partners
Flatley describes Cronofy as a scheduling tool composed of embedded components, built into Outlook, and other applications to allow for ease of scheduling. Whether it's meeting with decision-makers or confirming candidates, their platform has reduced the number of emails it takes to schedule critical meetings.
"The Judge Group takes privacy and security of our data extremely seriously, and Cronofy has helped us achieve greater results with their scheduling platform," he says.
The technology streamlines the processes The Judge Group uses to manage its schedule. This has proven invaluable considering the level of transformation that has taken place across several key areas.
According to Flatley, three primary sectors that have seen the greatest level of business transformation, includes healthcare, finance, and technology. These industries have had a significant amount of growth since the pandemic. And these are three industries that will continue to be staples of our economy for decades to come.
Leadership and strategy
The recruitment space is also one he's grown to love because it opens up the opportunity to help talented people find the best role for their skillset and align their values to organisations they believe in.
"Recruiting has allowed me and my team to put people in positions to succeed. We've allowed them to have doors opened up for opportunities that they may never have had before. And, at the end of the day, we're changing lives.
He continues, "We are enabling people and resources to be put in a position with world-class organisations to build the future of technology.  That is what I'm passionate about. Helping others, driving results, and engaging with clients and consultants alike to maximise their potential by leveraging technology."
Flatley says the issue of leadership is also more essential than ever before due to the digital transformation and the changes the pandemic has brought upon businesses.  
He explains that The Judge Group has four cornerstones of success by which it operates, namely, Attitude, Personal Accountability, Perseverance, and Habit. "As a leader within The Judge Group, leading by example and becoming a master of communication in the new virtual world we live in are two of the biggest influences on myself," he says.
He also enjoys the opportunity to develop the desires and confidence in each team member. "This process starts with putting the right people in the right positions, coaching and empowering others to excel at their strengths, and supporting them in exceeding their expectations while contributing to the team's overall success.
"It's fulfilling and satisfying to achieve this level of success," he says.
Growth for the Judge Group
With the face of recruitment changing so rapidly, how does that affect The Judge Group's ability to plan its future strategies? Flatley believes the company has it all in hand and because it uses state-of-the-art technology to manage its services, solutions will continue to be provided and innovated.
"We'll continue to deliver phenomenal results for our clients and consultants alike," he says.
"Through our Professional Services offering, Judge Learning Solutions, and Judge Technical Services, we will continue to help companies act with speed, certainty, and confidence when facing complex business challenges."
He concludes, "Our solutions include business insights and outcome-based solutions around all aspects of technology, like project management, application development, digital strategy, and execution. Utilising top technology professionals in their respective fields, we will continue to build unique solutions for clients across the US and around the globe."