BlackBerry: reinventing itself in cybersecurity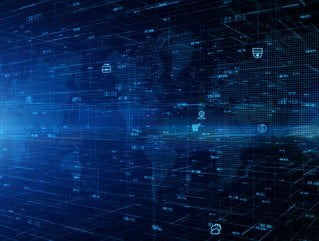 Steve Whiter, Director at Appurity explores how despite BlackBerry's phone being no longer in existence, it is reinventing itself in cybersecurity
As of January 4th, 2022, Canadian firm Research in Motion, most widely known for launching the BlackBerry device nearly 20 years ago, is to finally turn off its BlackBerry OS support. The BlackBerry handset, beloved by a whole generation of users and a precursor to Apple's iPhone and every Android device, is effectively dead. Like Monty Python's parrot, BlackBerry phones are now bereft of life, they have ceased to be.
Possibly a lack of business judgement, but when Steve Jobs et al unveiled the first iPhone back in 2007, the Canadian (RIM) business failed to remain competitive with all of the touch screen shenanigans, the explosion in Apps and even the rollout of Android phones. Ironically, only the day before BlackBerry's announcement, Apple became the first company to hit a $3 trillion stock market value. Could have this been BlackBerry instead? We'll never know now but it's an interesting time to delve a little deeper into the Canadian company's journey.
A potted history
Whilst BlackBerry's handset demise has been newsworthy recently, as a BlackBerry Emerald partner, we have often been asked over the years if they were still making handsets. Whilst many people obviously associate BlackBerry with the iconic 'smart device', it's probably fair to say that not so many of them are aware of the company's overall journey or know about the suite of security products attributed to them. The Enterprise of Things represents the next great wave in business transformation and BlackBerry is leading the way with a single platform for securing, managing and optimising how intelligent endpoints are deployed in the enterprise. Ultimately, this will enable customers to stay ahead of the technology curve that will reshape every industry. Clearly a force to be reckoned with then - BlackBerry has transitioned from a device company to a cyber company.
Indeed, from approximately 2013 onwards, BlackBerry effectively ceased to be a 'device manufacturer'. BlackBerry phones were made under license to run Android but represented an almost insignificant portion of the market. A few twists and turns here and there in the intervening years until in 2019, the company bought an A.I. cybersecurity company called Cylance. This move is in some way a reflection of the fact that BlackBerry had perhaps always been more of an enterprise manufacturer than a consumer one. A crystal globe moment perhaps, but the company envisaged an increasingly distributed digital workforce, giving rise to a huge network of (potentially) vulnerable connected devices - this is where they saw the demand for their product. With their devices now developing a reputation for cybersecurity, BlackBerry was well on its way to becoming a player in this sector.
Endpoint security
BlackBerry has a solid understanding of the client base that it is best positioned to serve (enterprise players) coupled with the knowledge of where those strengths could play in the future (Internet of Things, Enterprise of Things). And whilst they have continued their sterling work in the automotive industry (automotive technology), the big focus areas will be enterprises, governments, healthcare and financial institutions. These are all industries that demand high levels of trust in the mobile and laptop infrastructure. Over the last couple of years there has been a massive take-up of connected / smart devices within these sectors which represent huge challenges from a security perspective.
This is effectively what BlackBerry does today when it comes to security. It considers itself a leading provider of intelligent endpoint security solutions. Indeed, their goal is to build a single unified platform designed and capable to protect any endpoint on the planet. From a competitive point of view, when it comes to endpoint security and endpoint protection, BlackBerry wants to be considered in the same way that a client chooses Microsoft for cloud solutions or Cisco for networking capabilities. A big ask maybe, but BlackBerry are well on their way.
The huge proliferation of connected smart devices reflects the trend that for many of us, these devices have become the centre of both our personal and professional lives. Which gives rise to a dilemma facing many organisations today - when their workers are away from the office, they are using their mobile devices to stay productive - all the while using the same devices to tend to personal responsibilities. A business can no longer rely on perimeter-based tools now that most people are working away from the office. But many productivity suites and cloud apps give workers instant access to an organisation's data and infrastructure. Securing an organisation's data in this new reality is where BlackBerry wants to flex its muscles - and is already doing so!
BlackBerry offers AI-driven cybersecurity that serves to protect organisations using up-to-date unified endpoint security (UES) solutions. This end-to-end approach to cybersecurity is a reflection of the advancement of the Cylance artificial intelligence (AI) and machine learning that proved the genesis for BlackBerry's drive to protect organisations from all cyberthreats.
BlackBerry security - a branding strategy
In 2020, the company continued its expansion into security with enhancements to its BlackBerry Spark platform with the aim of bringing zero trust security to devices. But still the company faced the challenge of being predominantly recognised as a security company when so many still knew it as a device manufacturer. In reality, BlackBerry has reinvented itself as a software vendor, but enterprise buyers need to associate the BlackBerry brand with enterprise (cybersecurity) software. The momentum is certainly building here with the company focusing on their areas of strength (the enterprise) to rebuild their brand. As the older generation of users who remember BlackBerry as a device company are replaced by a younger generation who see them as a cybersecurity player, the tide will surely turn.
Trust is now firmly in the public eye and with a seemingly constant stream of successful cyber-attacks and data leaks, BlackBerry is well positioned to offer the solutions whilst cementing its role as a leading player in the cybersecurity landscape.