BT Group recruits cybersecurity apprentices and graduates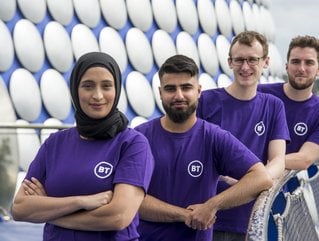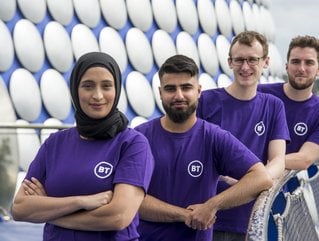 BT Group today announced plans to recruit more than 600 apprentices and graduates for its September 2022 intake in areas including cybersecurity
BT Group today announced plans to recruit more than 600 apprentices and graduates for its September 2022 intake.
The company will recruit talent into the company across areas as diverse as engineering, customer service, applied research, and cybersecurity to support the UK's fast-growing digital sectors. The new recruits will also support the company's plans to build and extend its 5G network around the UK.
The new roles are spread across a number of locations including Belfast, Birmingham, Bristol, Dundee, Glasgow, Ipswich, London and Manchester.
Many of these offices form part of BT's Better Workplace Programme - the largest workplace improvement programme and consolidation scheme of its type ever undertaken in the UK. The programme, which will complete in 2024, will establish an estate of future fit, high tech workspaces where colleagues can collaborate, innovate and deliver the best for BT's customers and for the business.
BT Group is one of the UK's largest private sector apprenticeship employers and has recruited more than 2,000 apprentices and graduates over the past three years. The company has around 4,000 colleagues working towards their qualifications at any given time.
Debbie White, Chief Human Resources Officer, BT Group said: "BT is at the heart of the UK's digital economy and is one of the largest employers of graduates and apprentices in the UK."
In 2020, BT was ranked fourth in the Top 100 Apprenticeship Employers in the UK and recently launched its Manifesto for responsible, inclusive, and sustainable growth. To build a bigger, more diverse talent pool, the company wants its workforce to have a 50 per cent gender split, with 25 per cent from an ethnic minority group, and 17 per cent with a disability by 2030.
Alongside its apprenticeship and graduate scheme opportunities, BT is also investing in several initiatives to support young jobseekers. These include BT's Work Ready training scheme and FastFutures which have already helped thousands of young people kickstart their careers, providing opportunities for young people who aren't in employment, education or training and preparing them for the world of work.
Work Ready and FastFutures form part of BT's Skills for Tomorrow ambition which aims to help 25m people in the UK develop the skills they need to make the most of life in the digital world by 2026.
Find more information on how to apply for a BT apprenticeship or graduate placement here