CyberGirls: tackling poverty with cybersecurity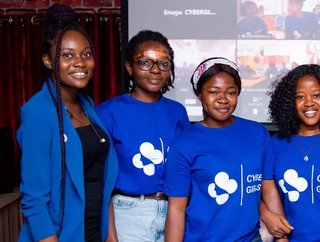 The CyberSafe Foundation's CyberGirls fellowship invests in girls from underserved communities and empowers them with cybersecurity skills.
Nigeria's technology industry has brought much wealth to the country, yet the dynamics of the innovative sector are male-centric. According to the Women's Technology Empowerment Center, Nigeria has a sizable gender gap. The technology sector, in particular, does not employ many women. According to the National Bureau of Statistics, women make up on average just 22 percent of the total number of engineering and technology university graduates each year. Similarly, just a fifth of the people working in the information and technology sector are women. 
Nigeria's cyber security industry has been given a major boost with the launch of a new charity in the country for women. The CyberSafe Foundation has launched a fellowship programme called CyberGirls. The one-year fellowship programme will equip girls between the ages of 15 and 21 with globally sought-after cybersecurity skills, positioning them to start a career in cybersecurity and seize work opportunities within Nigeria and across the world.
The project is the brainchild of Confidence Staveley who wanted to improve the socio-economic wellbeing of girls living in underserved communities in the country: "Investing in these girls and empowering them with globally sought-after cybersecurity skills will lift them and their families from poverty, contribute to combating cybercrime, address gender disparity, skills gaps in cybersecurity and fight youth unemployment/underemployment," Staveley says.
"I thought to myself, that we only look at cybersecurity from the angles of security measures, protecting enterprises, protecting people that use technology, what if cybersecurity could be the poverty alleviation tool, or vertical? It was that moment where I thought about things from a new angle and perspective and from here the charity was born," adds Staveley. 
Despite setting out on her career path to work in medicine, Staveley says she found a thirst for technology when she started programming and typing code. She says she had to "paint the perfect picture of technology" to her parents, explaining how it would provide opportunities for her future, when she told them she no longer wanted to study medicine at university as they didn't understand it. She went on to study Information Technology and Business systems at the University of Middlesex and achieve a distinction in her masters. Since graduating in 2013 she has worked in various cyber security roles across the country. She has also won countless awards for being a cybersecurity evangelist, cybersecurity woman of the year and a cybersecurity global influencer. 
The start of the fellowship 
The first cohort of 150 girls in the fellowship began in June 2021. Staveley says the recruitment process was tough. "We wanted to ensure we could get the message across to as many girls as possible so our recruitment drive focused on both online and offline means. In Nigeria there is a big divide between how many women and how many men have access to technology. For example many more men have access to Facebook in Nigeria than women. Culturally in our country men and women have very different roles, so it's not just about a technology divide but also a cultural divide," she says. The charity's offline drive included flyer drops in towns and villages and a radio campaign. "Radio is a channel that is commonly used by people that don't have access to digital information in Nigeria and we utilised every opportunity we had," says Staveley. Over 500 girls applied for a place on the fellowship. "Sadly we could only give 150 places," adds Staveley. 
During the one-year fellowship, beneficiaries will be progressively exposed to training in digital literacy, cybersecurity fundamentals, soft skills and career specific paths in cybersecurity, etc. Career specific paths will include Networking, Cyber and IT Security Audit, Incident Analysis/Response, Penetration/Vulnerability Testing, Security Intelligence, Web Application Testing and Cloud security. CyberGirls fellows will also enjoy hands-on training experience, mentorship from female cybersecurity professionals, as well as internship opportunities and entry level job placements during the last three months of the fellowship.
Staveley says the course gives them "globally applicable knowledge that will enable them all to achieve great careers in cybersecurity in the future." And when asked what the attributes of a successful woman working in cybersecurity are, Staveley says: "Curiosity, curiosity and a hunger for learning. I think if you're curious you want to learn more and cyber security is all about learning new ways of doing things and seeking out answers to new challenges.
Sponsorships and funding support 
The charity can only survive with help from sponsors and funding and Staveley says that so far this has been one of her biggest challenges. Some of the charity's sponsors include cybersecurity company Cyberunit, Northeast Humanitarian Hub, Mercy Corps and GiTech. 
"Computers and travel are expensive and many of the girls cannot afford to travel to where they need to be to get their training. We have been working with Nigerians in the public and private sectors as well as other Non- Governmental Organisations to collaborate and provide in-kind and in-cash support needed to ensure these girls have all they need to achieve the task ahead," says Staveley. She is also inviting prospective employers to support this initiative and signup as job placement partners for the purpose of providing paid internship or job placements for CyberGirls Fellows upon graduation from the fellowship. "Investing in these girls and empowering them with globally sought-after cybersecurity skills will go a long way in changing the lives of our beneficiaries and their families for years to come," she adds.
Staveley has high hopes for the future of the charity. "We are looking to expand to other parts of Africa, including Ghana, Egypt, Zambia and one more African country," she says. "In 10 years I see us playing a major role in shaping global policies around cyber security but also helping the African continent stay safe."