Fright Night – When the Scary Spiders come out to play!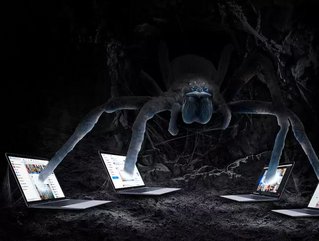 Cyberattacks on your business can be the stuff of nightmares, Secured Communications' Melanie Hill looks at some recent horror stories.
What do spiders do for fun on Halloween? – They crawl the web!
Joking aside, it's not just on Halloween, cybercriminals are coming after your data 24/7 365 days a year. They're the relentless dementors.
The possibilities of a cyberattack on your business can be the stuff of nightmares. Let's look at eight recent horror stories…
Some lose sleep at night; others think it will never happen to me!
Don't fool yourself. Anyone or any business who has an online presence is at risk of being hacked, from the schoolboy doing his homework to the CEO of a large company. Everyone is a target, so just as you triple lock your front door at night to keep your family safe or lock up the office to keep your client data secure, the same should go for your online presence.
Data breaches can be costly
If hackers crawl into your IT systems, they can steal your data or create vulnerabilities for others to do so. Data breaches not only compromise your proprietary information and client databases which prevent your company from being able to operate effectively, but also can get you caught up in the web of legislation protecting personal information. Fines for data breaches can be huge – up to 4% of annual global turnover or £17.5m ($24m USD) for a breach of General Data Protection Regulations.
Don't risk falling prey to ransomware
Hot off the press, a survey has revealed that over half of small businesses have paid a ransomware ransom averaging $26,000 USD, with over a quarter of the businesses admitting their data wasn't fully restored and 60% saying their data was leaked onto the dark web anyway. The survey also says that over half of small businesses are now keeping a cryptocurrency reserve in the event of a ransomware attack. Just weeks before Halloween, the Illinois candy giant hit behind Nerds, Laffy Taffy, Now and Laters, SweetTarts, Jaw Busters, Nips, Runts and Gobstoppers announced that it was hit with a ransomware attack as it prepares for one of its biggest holidays.
Going phishing?
Ever got an email suggesting something is wrong with your account or you need to reset a password? You were most likely being 'phished'. Phishing is a crime where the Internet or email is used in an attempt to fraudulently obtain private data, such as usernames, passwords or bank details.
Cybercriminals will use email, text or telephone contact to attempt to elicit such data. They will only be successful if they trick the recipient into trusting that contact. For this reason, phishing attempts often involve spoofed emails purporting to be from legitimate and trusted institutions such as an employer, bank or service provider. Phishing attacks can lead to identity theft, data breaches and financial losses.
Don't give your data away
Data harvesting is the practice where large amounts of data are collected from online sources through the use of small computer programmes known as bots or scripts. Bots and scripts are programmed lists of instructions which automate actions on a device or a website. Widespread online presence for businesses has led to the collection of copious personal information, which is often the subject of data harvesting. Once collected, this data can be put to use or it can be packaged and sold to third parties. For example, businesses often compile large databases, which if harvested and reproduced could be used to undermine their business, by replicating databases and publishing them elsewhere online.
Mysterious hacking group weaves its web
Double, double, toil and trouble, there's a group attempting to hack global telecommunications and the odds are that they've been up to this since as far back as 2016. This mysterious band of hackers has been able to spy on anyone whose device is connected to its targeted networks, according to new research. Food for thought…
Forbes has published a great article on why not seeing yourself or your business as a target will lead to you letting your guard down and in doing so create opportunities for hackers.
Do you understand what you are accepting when visiting a website or using a new app?
Let me ask you this: how many times have you downloaded an app and fully read and understood the terms and conditions? That 'free' app could open the door to your and your company's private data, which can then be sold or shared to those with criminal intent; they're not called 'leaky' apps for nothing. Similarly, most will automatically click the 'Accept' button when the message about 'Cookies' appears, but would you so readily accept it if the message was, 'Can I track you?" which essentially is what a cookie is!
Future proofing against the computers that will think like humans
And finally, we have a glimpse into the not-too-distant future. Quantum computing is, put simply, giving each computer the technology to think with the brain power of not just one human but collectively millions of humans. Instead of being simple binary in approach, computers will have the ability to think outside the box and to be flexible in decision making.
While quantum computing holds many benefits in terms of medical research for example, it also poses a threat to cybersecurity which will require a shift in how we protect our data through new encryption techniques.