The Ultimate Enterprise Technology & AI & Cyber LIVE Event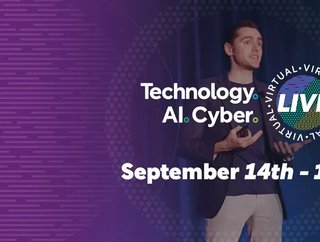 New speakers announced for Technology & AI & Cyber LIVE Event, where innovation meets implementation, coming to you live from London
Do you want to build high-level relationships, gain insider knowledge and leave with the tools you need to drive effective digital transformation within your business? Then you don't want to miss out on the must-attend hybrid event of 2021 for leaders in forward-thinking enterprises.
At Technology, AI, and Cyber Live, you will be able to hear and engage with C-Level executives at Microsoft, IBM, Salesforce, Capgemini, and more.
Order your tickets now to take advantage of our limited-time Early Bird offer. 
How can you attend?
In the post-Covid era, not everybody wants to travel for events. So Technology & AI will be completely hybrid. That means you can attend the event in person or virtually, with no disadvantages to people who don't make the trip to the Tobacco Dock.
In-person
Technology and AI Live is happening in the Tobacco Dock in London, a ten-minute walk from Tower Bridge. For more information on the location, click here. 
Virtually
There's no need to worry about missing out if you choose not to attend in person. You can still absorb all the information, interact with other attendees and enjoy the conference experience on our virtual platform. 
There will be live feeds from all of the stages (also available on-demand after the event) as well as virtual networking areas. So not being able to travel is no reason to miss your chance to gather with the industry.
New Speakers
Vice President at CGI
Sunil has over 20 years of experience in consulting and helping energy and oil and gas clients transform into digital and sustainability leaders. He has also helped organisations across the energy, oil and gas, chemicals, renewables, and manufacturing industries realise business value from their investments using cloud, artificial/augmented intelligence, data science, internet of things, industry 4.0, robotic process automation, cybersecurity, and hyper-automation.
He has substantial experience in the information technology industry gained working at IBM Global Business Services, KPMG Management Consulting, Sapient, and Infosys. 
Chief Information Officer at Department of the Air Force
Lauren Barrett Knausenberger is the Chief Information Officer for the Department of the Air Force, including the U.S. Air Force and U.S. Space Force. She leads two directorates and supports 20,000 cyber operations, and supports personnel around the globe with a portfolio valued at $17 billion. 
She provides oversight of the Air Force's Information Technology portfolio, including the Information Technology investment strategy from networks to cloud computing, Enterprise policies, information resources management, IT innovation initiatives, information assurance, and related matters for the Department of the Air Force. 
CEO at Colt Technology Services
Appointed CEO in May 2020, Keri is responsible for executing Colt's strategy, which centres around transforming the way the world works through the power of connectivity. Before becoming CEO, Keri was Colt's Chief Commercial Officer (CCO), leading global teams across sales, presales and marketing. Passionate about promoting Inclusion and Diversity, she also leads Colt's Diversity Council to ensure Colt is a business where everyone feels they can bring their true selves to work. We look forward to hearing her insights. 
Order now to make the most of our early-bird offer. Ticket prices increase over 50% soon! For tickets and information, head over to our event site.