The Ultimate Enterprise Technology & AI & Cyber LIVE Event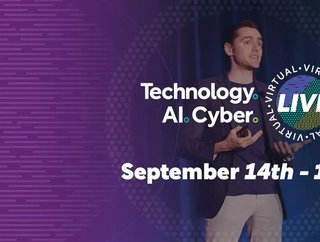 New speakers announced for Technology & AI & Cyber LIVE Event, where innovation meets implementation, coming to you live from London
Do you want to build high-level relationships, gain insider knowledge and leave with the tools you need to drive effective digital transformation within your business? Then you don't want to miss out on the must-attend hybrid event of 2021 for leaders in forward-thinking enterprises.
At Technology, AI, and Cyber Live, you will be able to hear and engage with C-Level executives at Microsoft, IBM, Salesforce, Capgemini, and more.
Order your tickets now to take advantage of our limited-time Early Bird offer. 
How can you attend?
In the post-Covid era, not everybody wants to travel for events. So Technology & AI will be completely hybrid. That means you can attend the event in person or virtually, with no disadvantages to people who don't make the trip to the Tobacco Dock.
In-person
Technology and AI Live is happening in the Tobacco Dock in London, a ten-minute walk from Tower Bridge. For more information on the location, click here. 
Virtually
There's no need to worry about missing out if you choose not to attend in person. You can still absorb all the information, interact with other attendees and enjoy the conference experience on our virtual platform. 
There will be live feeds from all of the stages (also available on-demand after the event) as well as virtual networking areas. So not being able to travel is no reason to miss your chance to gather with the industry.

New Speakers
 
Global Chief Data Officer at IBM Corporation
Inderpal Bhandari joined IBM in late 2015, to lead its data strategy and drive its internal data and AI enterprise transformation. As an expert in transforming data into business value and improved customer experiences by delivering strategic, innovative capabilities that use analytic insights to enable growth and productivity, we are sure you don't want to miss out on his vast amounts of knowledge.
He brings more than 20 years of experience in leadership roles, and his work has been officially recognised. In 2017, Bhandari was named US Chief Data Officer of the Year by the CDO Club, and over his career, he has also been featured as an industry expert by the Wall Street Journal, the Washington Post, US News & World Report, CNN and Fox.
CIO at BCA
Robert has 25 years of experience in technology roles across Europe, the Middle East, Africa, Asia, and North America. He specialises in industries with a heavy focus on delivering an enhanced Customer Experience through the use of Digital Technology.
Prior to joining BCA Teagle spent two years in Dubai working for Marikana, which is the Middle East's largest food retailer manufacturer. His career has also taken him to the US when he worked at Accenture and as an IT director for Starbucks in Amsterdam.
Chief Information & Digital Officer at Ali & Sons Holding LLC
With more than 20 years of experience in ICT, Zaman holds diplomas and certificates in business, finance, and technology from universities in the UK and US.
He is a British digital expert with blue-chip background and a successful track record of working with boards and senior stakeholders to design and develop digitally enabled, agile business models that improve profitability, competitiveness and create new value using the latest cutting-edge digital technologies and management strategies.
His career background spans numerous industry segments including oil/gas/energy, construction, manufacturing, management and technology consulting, real estate, media, retail, insurance, travel/tourism, and education. Zaman has been a guest speaker for numerous digital forums and has been a CIO 100 Award Winner 4 times.