GISEC GLOBAL 2024
Tue 23 Apr - Thu 25 Apr, 2024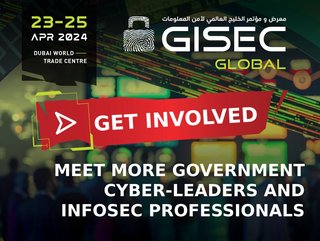 GISEC GLOBAL 2024
Participate at GISEC Global 2024 and join us to create a ground-breaking phenomenon inside the world of Cybersecurity.
Join the global cybersecurity community at GISEC Global!


Hosted by the UAE Cyber Security Council and officially supported by the Dubai Electronic Security Center, Ministry of Interior (UAE), Telecommunications and Digital Regulatory Authority (TDRA), and Dubai Police, GISEC Global is undeniably the largest cybersecurity expo and conference, featuring top cyber brands and InfoSec professionals from 127 countries.


GISEC Global brings together top cybersecurity enterprises, influential CISOs, government dignitaries, and global experts. Be a part of the transformative discussions and drive cybersecurity advancements worldwide. Save the date - April 23-25, 2024 at the Dubai World Trade Centre.


Discover more about exhibiting or visiting at: www.cyber.gisec.ae

Join the GISEC Global community on LinkedIn for the latest updates: https://www.linkedin.com/company/gisec-global/