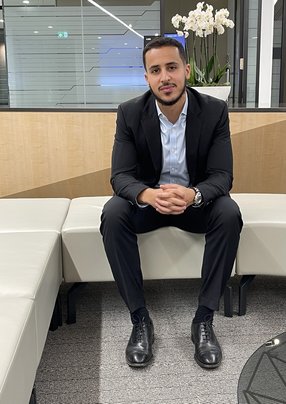 Youssef Oujdi
Chief Security Officer of Alvarez & Marsal

Youssef Oujdi, Chief Security Officer, reflects on his career journey, achievements and favourite thing about the industry he works in
Falling into the management consultant industry quite by chance, Youssef Oujdi, Chief Security Officer, Alvarez & Marsal graduated from the University of Westminster with a degree in Business Information Systems, with a focus on IT & Security. "After graduating I happened to find a role in IT at Alvarez & Marsal a professional services firm which resulted in my quick introduction to the industry. And from there the rest was history," says Oujdi.
Privately-held since its founding in 1983, Alvarez & Marsal is a global professional services firm. Delivering tangible results for corporates, boards, private equity firms, law firms and government agencies for those that face complex challenges, "Alvarez & Marsal is notable for its work in turnaround management and performance improvement, but over the last decades has expanded into multiple other service lines. Its core mission as a business is to continue providing clients with high-quality services driven by leadership and ultimately results."
What is Oujdi's favourite thing about the professional services industry?
"My favourite thing about working in the professional services industry is that you're not tied down to a specific industry. In professional services, you are exposed to so many different industries. For example, at Alvarez & Marsal we have multiple service lines, whether it's disputes and investigations or mergers and acquisitions or performance improvement work, you're constantly dealing in with different industry types and different use cases. Specifically, we support our business units from a cyber security perspective, so for me, it's being exposed to so many different industries and having the ability to apply cybersecurity in different ways for our business units," says Oujdi.
What inspires Oujdi?
"What inspires me is the ever-changing technology landscape. There's not a morning where I don't wake up and there hasn't been something new created or discovered. Innovation is a big thing that inspires me and keeping up with the latest, always looking for new solutions to solve complex issues."
What is Oujdi's proudest achievement?
"One of my proudest achievements is being part of the Microsoft and Cisco security advisory council where I sit with their development teams to advise and have input on the cybersecurity technologies they are developing, which in turn puts us in a position to help ourselves and other enterprises solve complex cyber issues."
Read the full story HERE.
From an infrastructure perspective, 2U is actually in a really good state because we have a lot of infrastructure as code deployment builds, so have many security guardrails built into those CI/CD pipelines