Webinar: OT networks, ransom attacks, and cyber resilience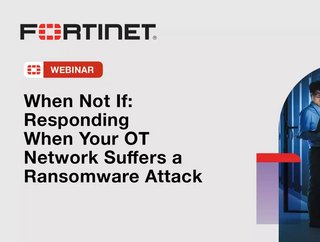 Join Bizclik Media Group and Fortinet for this exclusive webinar as we explore how to respond when your OT network suffers a ransom attack
Operational Technologies (OT) infrastructures across industrial sectors such as manufacturing, transportation, utilities, and oil & gas are increasingly becoming the target of sophisticated cyberattacks. 
In recent months, cyberattacks have been making headlines, focusing executive attention on cyber resiliency and how organisations can take the right steps to keep themselves safe.
In the past, many OT infrastructures were self-contained and isolated (or "air-gapped") from corporate resources, so they were relatively safe from internet-based threats. Not so much today. As OT and IT networks converge, outdated and unpatched OT endpoints represent a tempting entry point for cyber attackers.
Preparing for, responding to, and recovering from cyberattacks should be a strategic part of your business continuity plan. 
BizClik Media Group and Fortinet invite you to our live webinar, taking place on 24 June 4 pm BST.  The event, entitled 'When, Not If:  Responding when your OT network suffers a ransomware attack', will allow people who are joining live to ask questions. 
What will the webinar cover?
Trends impacting the multiple attack points across the industrial threat landscape 

Insights garnered from purpose-built threat intelligence and supporting services for developing cyber resilience 

A platform approach for broad, automated and integrated cyber resilience
Who will be joining the webinar from Fortinet?
Practice Director - Managed Detection and Response, and Incident Response
Industry veteran Anthony Giandomenico has racked up 30 years of comprehensive experience as an Executive, Entrepreneur, Mentor and Security Consultant for companies within information security across all industries. In his current position at Fortinet, Giandomenico is responsible for all aspects of the Incident Response and Managed Detection and Response services, including P&L, marketing activities, service delivery and new service development. He has presented, trained and mentored on various security concepts and strategies at many conferences and trade shows such as the Gartner Security Summit, HIMSS15 and ISMG Data Breach Summit and media outlets, including a weekly appearance on KHON2-TV morning news "Tech Buzz" segment and Technology News Bytes on OC16, providing monthly security advice among others.
 
Director of Product Marketing - Operational Technologies
William Noto leads Fortinet's OT security product marketing initiatives globally. Prior to joining Fortinet, William spent 12 years at General Electric in both the GE Wind and GE Digital business units. At GE, William held product management and sales roles developing OT security offerings, including WindSCADA Secure, the Predix Edge platform, and the OpShield and Achilles product lines. William holds an MBA from the UMass Isenberg School of Management and a BA in Computer Science from Middlebury College.
Does it sound like something you're interested in? If so, don't miss your chance to join this exclusive webinar. Sign up now. 
We look forward to seeing you there!