Veeam champions cyber resilience to fight ransomware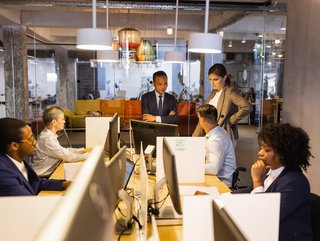 n light of Veeam's recent report, UK business leaders in particular rate ransomware as a more significant threat to their organisation
Veeam advise on cyber resilience, after reporting 85% of global businesses faced cyberattacks in 2022 and UK leaders increasingly worry about ransomware
Veeam recently released its Veeam Data Protection Trends Report 2023 which found that 85% of global businesses surveyed suffered at least one cyberattack last year. It suggests that UK business leaders in particular are more worried about ransomware, as opposed to economic uncertainty.
The growing anxiety about dealing with ransomware is nothing new, however the psychological, human and financial damage that the attacks are causing is something that Veeam wants to draw attention to.
Surging cyberattacks have significantly elevated UK business leaders' anxieties about ransomware in particular, with 43% surveyed ranking it as more of a concern than all other critical business challenges.
Veeam holds international recognition for cyber resilience
Veeam has achieved international recognition for cyber resilience, having achieved an international common criteria certification for cyber resilience from the US National Information Assurance Partnership.
It signifies a significant step towards the company reinforcing data security and ensuring confidentiality, integrity and availability of sensitive and critical information. More than 450,000 enterprises around the world rely on Veeam, as the company is a world leader in the data replication and protection software market that works to ensure cyber resilience and rapid recovery from ransomware and cyber-attacks.
The Veeam Data Platform offers more advanced data security, recovery and hybrid cloud capabilities across the entire IT environment. Veeam Backup & Replication v12 provides secure backup and fast reliable recovery from every cyber threat including ransomware, to ensure that businesses are kept resilient and running.
Through this platform approach, every environment, however complex, can be secured and recovered rapidly when it counts most, defeating ransomware attacks and ensuring maximum efficiency and reliability. Veeam Data Platform Advanced Edition pairs the expansive backup and recovery features of Veeam Backup & Replication with powerful monitoring, analytics and compliance capabilities of Veeam ONE to provide users with intelligent monitoring and observability to identify and resolve any backup or recovery problems before they begin.
Report findings uncover cyber anxieties: Tight protective measures required
In light of Veeam's recent report, UK business leaders in particular rate ransomware as a more significant threat to their organisation than the economic crisis (41%), skills shortages (34%), political uncertainty (31%) and Brexit (30%).
The report, conducted via Censuswide, surveyed 100 directors of UK companies with over 500 employees who had suffered a ransomware attack in the past 18 months. The study reveals that 61% are anxious about the prospect of another ransomware attack, with 71% agreeing that their business would collapse if it suffered another attack.
Additionally, 56% believe another incident would force the organisation to make redundancies. In fact, 77% of organisations reduced staff numbers after the last attack and over 50% were unable to make new hires due to paying a ransom. This is already concerning, given an expanding skills gap within the cybersecurity sector.
The survey also uncovered the severe toll cybercrime places on people's wellbeing: 54% of respondents said they experienced a decline in their overall health, while 26% left the role they were in altogether. 71% of respondents also believe that ransomware attacks critically disrupted most departments in the company.
Given the significant financial damage caused by ransomware, Veeam says that it is clear why some businesses fail to recover. As well as the cost of the ransom itself, companies lost an average of 35% of their annual turnover in the three months following an attack, with 39% losing more than 40%.
The findings highlight the urgent need for businesses to build up cyber resilience. Fortunately, companies are taking steps to tackle the ransomware threat head-on. 43% of those surveyed implemented a backup and recovery strategy after experiencing an attack, and 37% optimised their backup and recovery strategy, showing how backup is increasingly viewed as the best line of defence.
Dan Middleton, Regional Vice President UK&I at Veeam, said: "It's understandable that ransomware is a leading cause of stress for business leaders and their employees, especially as it's now a case of 'how often' rather than 'if' or 'when' cyber-attacks will strike.
"With cybercriminals constantly evolving the pursuit of their next victim, businesses must do all they can to reduce ransomware's human and economic consequences by protecting and backing up their data to ensure rapid recovery after an attack. This will not only keep businesses running as usual in the face of the very real threat of ransomware but will also considerably alleviate the ripple effects it can have on people and businesses."


******
For more insights into the world of AI - check out the latest edition of AI Magazine and be sure to follow us on LinkedIn & Twitter.
Other magazines that may be of interest - Technology Magazine | Cyber Magazine.
Please also check out our upcoming event - Cloud and 5G LIVE on October 11 and 12 2023.
******
BizClik is a global provider of B2B digital media platforms that cover Executive Communities for CEOs, CFOs, CMOs, Sustainability leaders, Procurement & Supply Chain leaders, Technology & AI leaders, Cyber leaders, FinTech & InsurTech leaders as well as covering industries such as Manufacturing, Mining, Energy, EV, Construction, Healthcare and Food.
BizClik – based in London, Dubai, and New York – offers services such as content creation, advertising & sponsorship solutions, webinars & events.