Davos leaders call for action in face of brewing cyber storm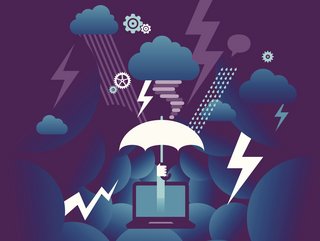 Experts warned cyberattacks are increasing in sophistication and frequency, presenting a global threat which demands a global response, said police leaders
A cybersecurity storm is brewing, and 2023 will be a critical year for global business, experts warned at the World Economic Forum's Annual Meeting 2023 in Davos.
Cyberattacks are increasing in sophistication and frequency, it was reported, and as economic and geopolitical instability continues across the planet, developments will include an expanded threat landscape and increasingly sophisticated cyberattacks.
"There's a gathering cyber storm," Sadie Creese, a Professor of Cyber Security at the University of Oxford, said during an interview at the World Economic Forum's Annual Meeting 2023 in Davos, Switzerland. "This storm is brewing, and it's really hard to anticipate just how bad that will be."
Cyberattacks such as phishing, ransomware and distributed denial-of-service (DDoS) attacks are rising. Cloudflare, a major US cybersecurity firm that provides protection services for over 30% of Fortune 500 companies, found that DDoS attacks increased last year by 79% year-over-year.
"There's been an enormous amount of insecurity around the world," Matthew Prince, the CEO of Cloudflare, stated during the Annual Meeting. "I think 2023 is gonna be a busy year in terms of cyber attacks."
There is also widespread concern that governments will boost their support to or direct involvement in disruptive cyber operations. This includes cyber activities carried out by countries such as Russia and North Korea.
"This is a global threat, and it calls for a global response and enhanced and coordinated action," Jürgen Stock, the Secretary-General of the International Criminal Police Organization (INTERPOL), said in Davos. "The key to winning the battle against cybercrime is, of course, to work together to make it a priority across the geopolitical fault lines."
Major cyber event likely to occur within two years
The report revealed more awareness of cyber threats among business leaders than the previous year. A total of 91% of surveyed respondents believed a major cyber event was likely to occur within the next two years. Despite this heightened awareness, the report found that organisations still struggle to effectively address cyber concerns.
The report highlighted that the range of potential targets for cyberattacks has broadened, including not only government agencies and large corporations, but also small organisations that handle consumer data.
"We need to accept that this is really about cyber resilience," said Creese. "There is no such thing as a hundred per cent security. It's about resilience in the face of insecurity. "
Experts suggest that consumers must also enhance their understanding of cyber security in 2023. This is particularly important as the number of everyday items, from cars to coffee makers, that are connected to the internet continues to rise.
However, as the threat landscape expands, cyber security defences are also becoming more advanced, such as the Zero Trust approach, which establishes a framework that removes inherent trust and verifies the identity of any user, including those within an organisation's network, at all times.
"It's really important for us to actually build cybersecurity into the network itself," said Prince. "If we can make it so that instead of your coffee maker having to be secure, you can simply say that the network which is connecting into your house is secure from the beginning."