Emotet Malware 2023 Resurgence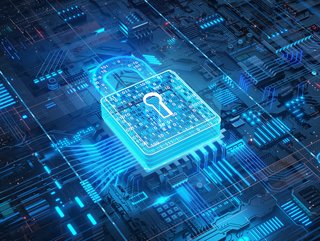 Image of digital padlock
Active since 2014, Emotet is a sophisticated modular banking trojan that is normally used to distribute other types of malware.
Active since 2014, Emotet is a sophisticated modular banking trojan that is normally used to distribute other types of malware.
Despite facing law-enforcement activity in 2021, Emotet has resurged in 2022 and continues to deploy additional types of sophisticated malware, including ransomware, post-compromise. During 2022 SecurityHQ saw a wave of activity, whereby Emotet was seemingly the malware of choice to deliver ransomware payloads.
What is interesting about Emotet is that it contains multiple features. Emotet is designed to steal credentials, harvest email addresses, distribute spam, enable lateral movement, and download other types of malware.
How Does Emotet Impact Business?
Emotet presents a persistent threat to organizations worldwide. The operators of the malware frequently take breaks before returning with new threat campaigns deploying new tactics.
Emotet is also known for the following:
It catches organisations off guard, as the operators of the malware often pause campaigns for significant amounts of time, then return with a new tactic.
Emotet not only resurged in 2022, but continue to deploy sophisticated malware, including ransomware post-compromise.
Ransomware groups, (specifically Conti, Quantum Locker and ALPHV) were observed using Emotet to distribute their Ransomware payloads.
In 2022 SecurityHQ observed over 266 incidents, that were handled and remediated globally. SecurityHQ also released 3 Threat Intelligence Advisories, published internally to spread awareness of the malwares growth.
From documenting the malware, it is clear just how active Emotet has been throughout 2022. This graph showcases data taken from SecurityHQ's global Security Operation Centres.
The red line highlights incidents that were worked, from a cyber defence perspective. You can see the common trend with Emotet, whereby the group comes up with a campaign, they then take a break, and come back with a vengeance. Emotet do not operate all year round, they do a campaign, then go quiet again, and so on. Which is why you can see this up and down trend.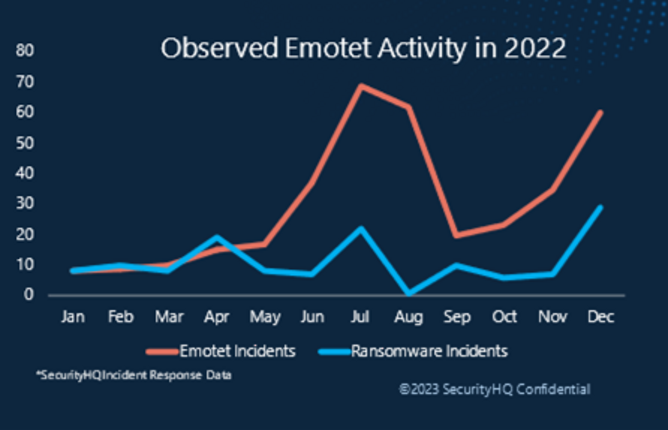 Observed Emotet Activity in 2022 Graph
But now, take the blue line. If we, SecurityHQ analysts, link the fact that Emotet was used by ransomware payloads to get initial access, you will notice an interesting trend, where the blue line denotes ransomware incidents that we saw over the year. Set alongside the red Emotet activity over the year, what we see is that wherever Emotet activity spiked in our data, we also observed a spike of ransomware related incidents. You can see that around July/ August time, and the end of the year around November/December time, with both lines showing a clear upwards trend.
This shows that as there as a trend of Emotet related incidents, so there was a trend in Ransomware attacks.
Recommendations to Avoid Being Impacted by Emotet Campaigns in 2023
For more on Emotet, a review of similar malware, and a prediction on the emerging and resurging threats to come out of 2023, watch this webinar on 'Global Threat Landscape 2023 Forecast'.