Tech leaders to discuss future of work at New York summit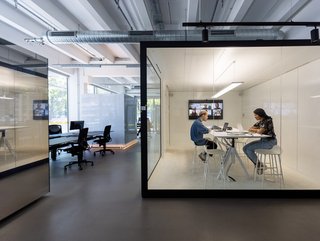 Summit will include leaders from Meta, Prudential, Travelers, American Eagle, and Pinterest, who are due to meet to discuss shifting workplace paradigms
Web giants Meta and Pinterest, among others, will discuss technology-driven productivity and the environmental impact of hybrid working at a workplace summit held by the technology research and advisory firm Information Services Group (ISG) in New York next month.
"The future of work is not just about automation and artificial intelligence," says Dee Anthony, ISG director and host of the ISG Future Workplace Summit, to be held March 15th–16th, in New York. "It's about how businesses utilise AI, robotics, machine learning and other technologies to create new opportunities for workers. To help prevent job loss, enterprises must train employees in new skills and technologies."
ISG and industry experts participating in the ISG Future Workplace Summit will explore a range of topics over the course of the two-day event, including adaptive organisations, technology-driven productivity, employee experience, the environmental impact of hybrid working, and strategies for building change resiliency and change capability into an organisation's culture.
"It's important for today's workers to think about the future of their careers," says Anthony. "What skills do they need? How will jobs and the nature of work change? How can they prepare themselves with new technologies?
"One way to increase productivity is by 'inspecting what you expect.' Technology and training can help enterprises and employees measure productivity for both structured and unstructured work performed synchronously or asynchronously."
Work trends for 2023 and beyond
On the first day of the event, attendees can expect an SG Predicts session about the future of work in 2030 and beyond, as well as a panel discussion entitled "Adapting to Changing Talent Models and Hybrid Work" featuring Tina Walker, the Vice President of Human Resources and Administration at the California Community Foundation, and Jamie Feuerborn, a business transformation and workplace experience strategist with Boeing.
The second day will delve into talent architectures and employee experience. Wagner Denuzzo, the Vice President of Organizational Effectiveness and head of the Future of Work Talent Centre of Excellence at Prudential Financial, will participate in a keynote interview with Anthony on Dynamic Talent Strategy: Leading Human Capital through Ecosystems. This session will examine new methods for transforming human capital into a valuable asset in competitive markets.
Leaders from Meta, American Eagle Financial Credit Union, Regeneron, and The Granite Group will join a panel discussion titled Great Resignation to the Great Regret, What's Next? to discuss strategies for creating a next-generation employee experience that will keep employees and customers satisfied.
Other panel discussions include Building Change Capability: Head, Heart, and Hands with executives from Travelers, Gensler, and Pinterest, and Going Beyond Automation to an Intelligent Workplace, which will explore the use of AI, analytics, and automation to drive innovation and improve collaboration.
Entrepreneurs David Lopez, the co-founder and CEO of Gritly; Michael Samuels, the Vice President of GTM at Scoop Technologies; and Bozhanka Vitanova, the founder and CEO of TeamLift, will participate in the ISG Startup Challenge. They will present pitches on how their innovative technology solutions can add value. After the startups have answered questions from a panel of judges, the audience will vote on which technology they think will be most likely implemented in their organisations.