What can be done about 'The Great Resignation'?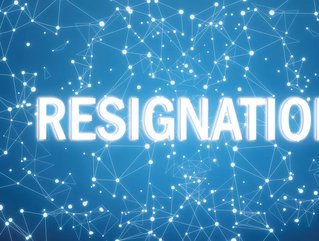 Cyber Magazine speaks to seven industry experts to gain their insights and advice on what organisations should be doing to retain their staff.
Since the summer of this year, the UK employment sector has been hit by a new phenomenon called 'The Great Resignation', in which all industries are seeing staff leave, or plan to leave, their jobs in large numbers. In fact, a study from HR software company Personio of workers in the UK and Ireland showed that 38% of employees are planning to quit in the next six months to a year.
This, in conjunction with the rising skills shortage, spells serious trouble for UK businesses. But what can we do to stem this oncoming storm? 
Cyber Magazine spoke to seven industry experts to gain their insights on 'The Great Resignation' and advice on what organisations should be doing to retain their staff. 
Adapting to remote work
One of the biggest changes employees have endured in these last few months has been the back and forth between remote work and the office. And now, as the UK has once again been called to work from home if they can, organisations need to ensure that they are getting it right when it comes to remote working. 
Kathryn Barnes, Employment Counsel EMEA at Globalization Partners expands, "it's important to remember that today's workplace looks very different to how it was pre-pandemic, with 98% of businesses now enjoying remote work of some variety. You get so much more out of your employees when they work flexibly, and as the workplace continues to evolve through 2022 and beyond, the biggest pitfall a company can make is not embracing change. Companies have already invested in online infrastructure that allows employees to work from anywhere, so I expect they will expand using these models, testing the market in new regions. Whilst staff shortages remain top of mind for employers, the talent pool is larger and more global than it's ever been - people are no longer confined to looking for talent in just their immediate location. Ultimately, by being flexible and trying new approaches, companies can implement change for the better - in the best interests of their employees and business growth."
Implementing a positive company culture
The well-known adage goes: employees don't leave companies, they leave managers. Creating the right environment is not a luxury when it comes to retaining staff, it's a necessity. "Increasingly, employees are looking at company culture as a key component in deciding where to work - a sense of inclusion and belonging is crucial," emphasises Dr. Shirley J. Knowles, Chief Inclusion and Diversity Officer, Progress. 
"Feeling as if they belong allows employees to feel appreciated, and that they are working in an organisation that offers real opportunities to grow. Organisations have to understand that for talent - especially women and minority groups - feeling included and valued is a huge motivator. Leaders should therefore take steps to promote a culture of inclusion. These can be simple - such as regularly checking in with your teams, or being more open about challenges. Other options include mentoring top talent, especially from minority groups, and ensuring that you're regularly taking feedback from staff, and taking appropriate action - immediately. Overall, it's important to ensure that people are a top priority for your business. Making sure that their wellbeing is prioritised wherever possible will go a long way towards creating a company culture that staff will be pleased to be a part of." 
Focusing on learning and development 
Another key factor in retention rates is recognising the importance of personal development. "Research suggests more than ever that if employers are to retain their people that they have to look beyond the traditional loyalty drivers and focus on offering environments in which people can learn, grow and develop", highlights Dave Birchall, Chief People Officer at Node4. "In order to keep pace with the growth of technologies, organisations must enable their people to explore career options and be supported to learn and develop without needing to look for a new employer."
Tony Prevost, HR Director at Skillsoft furthers: "The challenge for employers in this brave new world, where we can work from any location, is considering what employees gain from the workplace outside of a salary. In part, it's about upskilling people, not just in the core skills needed to do their job, but in the skills needed to be effective and productive from anywhere. Employers should also produce clear development plans that don't just suit their needs as an employer, but also suit their employees' career aspirations.
"We have, after all, witnessed a depletion in staff loyalty over the last eighteen months, largely because many of the reasons people were drawn to work in the past (e.g. unique office spaces, snacks) have diminished. Investing in employees' development should remain a strategic priority and a key 'work perk'." 
Consider outsourcing 
Taking into consideration the global talent shortage, especially within the IT industry, sometimes the key to building a strong, well-rounded workforce may lie in outsourcing some of the current workload. Gregg Lalle, Senior VP, International Sales & Strategy at ConnectWise explains, "many MSPs are benefiting from using a Help Desk service, rather than trying to provide that 24/7 technical support for their clients themselves. Using an outsourced service allows businesses to immediately serve their customers without having to bring in new staff: navigating raises, career paths and HR issues.
"In short, spending on your current employees can be a more effective use of funds than hiring. In order to scale and capture the growing market, MSPs are looking to outsource non-critical functions. Outsourcing lower value activities allows an MSP to lower costs whilst still owning the touchpoint and outcome with their customers." 
The cyber security crisis
For the cyber security sector, the war against threat actors is never-ending and always evolving and as 'The Great Resignation' continues hackers could soon be gaining the upper hand. As Mike DeCesare, CEO and president, Exabeam details, there are "nearly 400,000 unfilled jobs looming and according to a recent 1,200 person survey 7 in 10 or 72% of tech workers are thinking about quitting their job within the next year.
"Equally concerning, understaffed and overburdened security analysts across industries are facing an onslaught of attacks and many simply don't have the resources to combat them."
"So how can CEOs leading cyber security and other organisations turn this narrative around and attract and retain the right talent to win the race against cyber criminals?" He suggests several actionable paths, including: 
Fixing the diversity issue. "

Fighting cyber threats, like any challenging endeavour, requires diverse teams with different perspectives to create long-lasting solutions to problems. Create the kind of culture that attracts and retains a more diverse pool of candidates; everyone, regardless of their background, wants to work at a place where they feel psychologically safe to contribute and communicate their knowledge and perspectives. Be sure your HR and other leaders are equipped to go the extra mile to also find diverse candidates."

Employ military minds. "

Many of the most successful people in cyber security came to their roles with a deep military background. The current veteran unemployment rate sits at

nearly 4%

as of November of 2021. It's an incredible group of candidates to attract and retain. Veterans are goal-oriented, trained leaders, who take responsibility seriously and are helping the top cyber security companies and their customers fight against cyber attacks from nation states like China, Russia, Iran, and North Korea." 

Invest in your security analysts, machine learning-driven analytics, and automation. "

Breaches have become more sophisticated and they trigger problems much more quickly once inside an organisation. The only way security teams can keep up is by embracing machine learning and AI into their security operations teams' response. The tools in this area have improved radically and cyber teams need to automate their security operations to defend against insider and external threats."
The wider picture 
Of course the IT industry is not the only sector to have been hit by the effects of 'The Great Resignation'. Rob Shaw SVP Global Sales at Fluent Commerce, states, "the retail sector has been particularly hard hit - seeing one of the biggest increases in open positions. Across the board, there is a huge recruitment drive taking place, particularly in delivery, fulfilment and logistics jobs. Retailers must now recognise that in order to attract and retain staff, they have to step things up a gear. For example, building a strong company culture with good benefits is key to creating a business that staff want to work for.
"Fluent Commerce, for example, operates an unlimited leave policy where we encourage the team to take time out if they need a mental, or physical, break. Open and transparent communication across the organisation is actively encouraged. Weekly Q&A sessions enable our team to raise work-related issues they're concerned about. All these initiatives contribute to our staff feeling valued and part of a team."