US government's NCWES aims to bridge cybersecurity gaps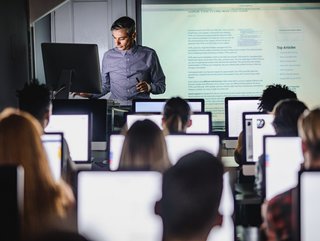 The objectives of NCWES aims to leverage adaptable ecosystems to effect change at scale, as it represents a whole-of-nation effort to support and scale local ecosystems for cyber education and workforce development
The National Cyber Workforce and Education Strategy aims to provide better education and opportunities within the cyber industry and improve workforces
The National Cyber Workforce and Education Strategy (NCWES) has said that it can help to meet the evolving needs of the cyber workforce.
Announced by the Biden-Harris Administration, the proposed outline has been designed to build the US cyber workforce and education system and address the critical cyber workforce shortage.
Globally, multiple nations are battling to build up their cyber workforces in the midst of an ever-increasing skills gap within the industry. The strategy has been welcomed by global tech trade association ITI, citing the importance of greater education and progression in the sector.
Working to bridge the growing cybersecurity workforce gap
The objectives of NCWES aims to leverage adaptable ecosystems to effect change at scale, as it represents a whole-of-nation effort to support and scale local ecosystems for cyber education and workforce development.
Indeed, recent studies have shown that there is a huge gap in knowledge within the cybersecurity sector. This is clear when global reports have revealed a lack of executive knowledge and an ever-widening talent gap that ultimately places a burden on security teams to prevent business-ending breaches.
It calls for greater knowledge and educational resources to be shared within the workplace to better combat cyber threats.
NCWES hopes to enable lifelong development of cyber skills, citing that all Americans should be equipped with foundational cyber skills needed to navigate daily life. It claims that those in every sector of the workforce should be prepared with industry-specific or occupation-specific cyber skills.
In addition, it wants people to be equipped with specialised cyber skills that will change over the course of their careers.
This is all part of NCWES' wish to grow and enhance the cyber workforce through improving diversity and inclusion. It states in its proposal that a diverse workforce will act as a key strategic advantage by increasing the pool of eligible workers and providing new ways to solve problems and cyber challenges.
Effective cybersecurity a key to maintaining national security
ITI has called on policymakers to consider the implications of the cybersecurity workforce, as there are currently more than 700,000 unfilled cybersecurity jobs.
In June 2023, ITI submitted written testimony to the U.S. House Committee on Homeland Security Subcommittee on Cybersecurity and Infrastructure Protection with recommendations on how to reduce the security workload and empower cybersecurity professionals.
"Effective cybersecurity is key to maintaining U.S. national security and ensuring U.S. competitiveness," said ITI Senior Vice President for Policy and General Counsel John Miller.
"As the number of unfilled cybersecurity jobs continues to grow and cyber attacks become more sophisticated, the release of the National Cyber Workforce and Education Strategy is timely. It appropriately emphasises the importance of diversity, equity, and inclusion for a modern technology workforce.
"Executing this strategy can bolster the investments and resources needed to protect and defend the digital economy, secure the infrastructure that underpins it, and address the complex and evolving threat environment in an efficient way.
"We look forward to partnering with the Biden Administration to implement the strategy and advance the private-public collaboration necessary to meet today's evolving cybersecurity workforce needs."
******
For more insights into the world of Technology - check out the latest edition of Cyber Magazine and be sure to follow us on LinkedIn & Twitter.
Other magazines that may be of interest - AI Magazine | Technology Magazine.
Please also check out our upcoming event - Sustainability LIVE in London on September 6-7 2023.
******
BizClik is a global provider of B2B digital media platforms that cover Executive Communities for CEOs, CFOs, CMOs, Sustainability Leaders, Procurement & Supply Chain Leaders, Technology & AI Leaders, Cyber Leaders, FinTech & InsurTech Leaders as well as covering industries such as Manufacturing, Mining, Energy, EV, Construction, Healthcare + Food & Drink.
BizClik – based in London, Dubai, and New York – offers services such as Content Creation, Advertising & Sponsorship Solutions, Webinars & Events.