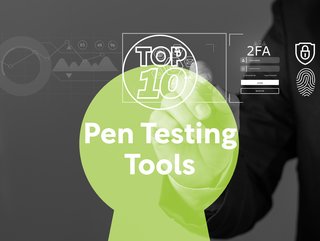 Cyber Magazine considers some of the most popular and highly rated pen testing tools that help to keep digital platforms secure
Quickly becoming a popular cyber solution for businesses, Cyber Magazine explores frequently used penetration testing tools that protect valuable data
As we have learnt from 2023, it is important for organisations to ensure that their digital platforms are secure and use a range of cybersecurity methods to do so. Penetration tests, or pen testing, helps to identify vulnerabilities in cybersecurity systems that have potential to be exploited, alerting security workers to solve the issue.
These tools also offer insights into IT weaknesses as well as recommended policies to strengthen security measures. With this in mind, Cyber Magazine considers some of the most popular and highly rated pen testing tools that help to keep digital platforms secure.
The NMap (Network Mapper) security scanner was created by an ethical hacker and technology expert, Gordon Lyon, who has been distributing NMap for free since 1997. The software scans networks to determine which hosts are online, which services are being offered, which operating systems are being run, in addition to other services.
NMap software also provides a wide range of features for probing computer networks, including host discovery and service and operating system detection. It can also adapt to network conditions including latency and congestion during a scan.
W3AF is a web application attack and audit framework with the goal of creating a framework to help users secure web applications. It works to do this by helping users to secure web applications by finding and exploiting all web application vulnerabilities.
The W3AF framework has both a graphical and console user interface and aims to make it easier to audit the security of a user's web application. It is also fully written in Python and can identify more than 200 vulnerabilities to reduce a site's overall risk exposure.
Today, more than 40,000 organisations around the world work with Tenable to help them understand and reduce cybersecurity risks across their attack surface. The company's goal is to provide every organisation with visibility and insight needed to protect digital systems so that organisations can stay one step ahead of cyber attackers.
Cybersecurity consultants use Tenable's Nessus platform to scour networks for vulnerabilities and create comprehensive reports. It allows users to scan their environments with high-speed and in-depth assessments and agentless scanning convenience.
OnSecurity's single platform helps to find and fix the security issues modern cyber-criminals prey on with methods like pen-testing, vulnerability scanning and threat intelligence. The company's founders spent a collective 40 years as professional ethical hackers, allowing them a unique insight into the hacker mindset and how the modern cybercrime industry works. This experience is now used to protect OnSecurity customers from modern hackers.
To date, the company has uncovered more than 30,000 digital vulnerabilities and completed more than 5,000 pen tests, both internal and external to protect businesses from cyberattacks.
Wireshark is a world-leading network protocol analyser, allowing users to see what is happening within their networks at a microscopic level. It holds a so-called de facto standard across many industries and educational institutions.
A continuation of a project that was first launched in 1998, the company attributes its success to the contributions of networking experts around the world. Wireshark enables pen testers to investigate security issues on a network, identify elements of the network that are malfunctioning and could be exploited in an attack and detect protocol implementation or configuration errors.
The Zed Attack Proxy (ZAP) platform is one of the world's most widely used app scanners maintained by a dedicated group of volunteers. Providing a wide range of options for security automation, it is a free and open-source penetration testing tool that is maintained under The Software Security Project (SSP).
ZAP is designed specifically for testing web applications and is flexible and extensible. It has been described as an easy to use tool for finding web vulnerabilities and is designed for developers and functional testers who are new to pen testing.
Nikto is a free software and vulnerability scanner that scans web servers for dangerous files, outdated server software and other digital problems. It works to perform generic and server type specific checks and captures and prints any cookies received.
The software identifies more than 6700 potentially dangerous files and programs, checks for outdated versions of over 1250 servers and version specific problems on over 270 servers. It also checks for server configuration items such as the presence of multiple index files, HTTP server options and will attempt to identify installed web servers and software.
Offering modern pentesting for security and development teams, Cobalt was founded on the belief that pen testing can always be better. It pioneered the pen test as a service (PtaaS) space by pairing a SaaS platform with an exclusive community of vetted testers.
The company offers on-demand access to a worldwide community of vetted pen testers whose skills match the individual needs of the user of business. Cobalt pen tests start in as little as 24 hours and integrate with modern development cycles.
Rapid7 aims to make cybersecurity simpler and more accessible via its research and detection and response tools to prevent cyberattacks. The company's pen testing services work to assess business networks, application wireless and social engineering security and do so with a team of industry experts with a deep understanding of cyber attackers.
The company has a pen testing tool Metasploit Pro that is a widely used software that does not require the need to learn coding or command line. It aims to dramatically reduce testing time by automating exploitation, evidence collection and reporting. It also makes it easy to conduct client side attacks, with advanced brute-forcing techniques and phishing attacks.
Astra Security's pen test platform is a testing suite that combines the Astra vulnerability scanner with manual pen testing capabilities. It is provided as a SaaS tool that users can operate by providing the target site URLs and credentials.
The company is continually committed towards making pen testing platforms self-serving and also offers 24/7 chat support on any issues. In particular, the Astra Vulnerability Scanner and pen test software can run more than 3,500 tests, with the results vetted by experts to ensure zero false positives.
******
For more insights into the world of Cyber - check out the latest edition of Cyber Magazine and be sure to follow us on LinkedIn & Twitter.
Other magazines that may be of interest - Technology Magazine | AI Magazine.
Please also check out our upcoming event - Cloud and 5G LIVE on October 11 and 12 2023.
******
BizClik is a global provider of B2B digital media platforms that cover Executive Communities for CEOs, CFOs, CMOs, Sustainability leaders, Procurement & Supply Chain leaders, Technology & AI leaders, Cyber leaders, FinTech & InsurTech leaders as well as covering industries such as Manufacturing, Mining, Energy, EV, Construction, Healthcare and Food.
BizClik – based in London, Dubai, and New York – offers services such as content creation, advertising & sponsorship solutions, webinars & events.